Financieel overzicht Stichting Ontwikkelingshulp ARUN – 2014
Inkomsten
Overschot per 1 januari 2013 € 1.395, cialis 41
Giften van particulieren/instellingen € 115.876,30
Cordaid € 75.000,00
Totaal Baten € 190.876,71
Uitgaven
Projecten in het bisdom Miao € 171.800,00
Bankkosten € 91,29
Totaal Lasten € 171.891,29
Bank rekening-courant 31 december 2014 € 18.985,42
Projecten 2014
Projects undertaken in the diocese of Miao, with the financial help given by Stichting Ontwikkelingshulp Arun in 2014.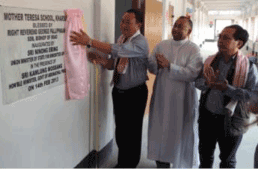 1. The financial support received from Progessio Nederland – Cordaid , (75,000 Euro) last year helped to construct classrooms for students in villages Medo, Kharsang and Deomali. The Newman Educational Society has monitored this projects. The money is spent for the educational and all around growth of the students in this region.





2. On 17th January 2014 Seva Kendra led by Sr. Rincy (Director) along with the five staff visited the flood victims. They showed the people "how to manage during emergency" and distributed food stuff, cloths and kitchen utensils to 100 families.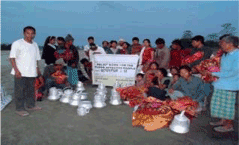 3. Intensified Malaria Control Programme: Last year, Seva Kendra has extended its malaria prevention programme by initiating it to 104 villages. Last year with the kindness and generosity of both Tirap and Lower Dibang Valley District Malaria Officers, mosquito nets were distributed in Kanubari, Roing and Kappu circle villages.













4. In the month of December 2014, refresher courses and trainings were conducted for the Community Health Volunteers of Lohit and Tirap Districts and the following medicines – RDT Kits, Pramaquine 7.5 mg, Chloroquine, Micro Slides, Lancets and indents have been distributed in the hands of CHVs' hands to diagnose, treat and cure the people from this killer disease.




5. Facilitating Agricultural Regeneration Measures (FARM) Launched: Seva Kendra East Arunachal, the Social Service wing of Miao Diocese, launched FARM Northeast at Rajanagar under Bordumsa Circle of Changlang district. FARM is a community-led eco-friendly project, an effort by Seva Kendra to bring socioeconomic empowerment and to create food security by reviving traditional agricultural practices, which would be implemented in 10 selected villages of Miao and Bordumsa blocks. It also endeavors in creating networks between the farmers and government agencies so that they can benefit from available schemes and funds meant for them.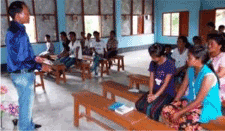 6. Seva Kendra Miao organized a Training on Human Rights at Shangkhedong Village on 9 and 10 June 2014. There were about 50 participants for the training programme. The Villagers asked for Mr.Pisi Jowing many relevant questions. They showed a great interest to know what their rights are. Mr. Jowing also informed the participants about the various government facilities available for them. He also asked them many questions to know if they are aware of the many existing problems in their village. The participants pointed out the lack of marketing facility, no proper health care facility, no encouragement to students and many more existing problems in their village.

7. IGA Training for SHGs Members at Singmao Village: On 1st February 2013 IGA (Income Generating Activities) training on flower making was organized at Singmao village, Kharsang Circle under Miao Panchayat. 30 SHGs members participated and benefited from the training by learning how to do cutting and decorations. These is the first time an NGO like Seva Kendra imparting training to Self Help Groups on flower making. Self Help groups can now make artificial flowers such like different types of roses and lilies that will help them earn a living by selling it in the local markets of Kharsang and Miao.
Lees ook onze andere jaarverslagen:
Jaarverslag 2014
Jaarverslag 2013
Jaarverslag 2012